A lot of men might not like to admit this, but we do care about our appearance and at Looks Studio performing Bio-Integrated FUE Hair Transplant we know how important looks are for men even if they have lost their hair. Granted this may not be as much as our female counterparts, but we do care all the same. Regardless of gender, feeling happy and healthy in our skin and in our appearance is universal. It breeds a sense of confidence and reassurance in us all. A lot can be said for self-confidence in work, in relationships and in our social circles. Botox for men helps to change their looks.
Naturally, as we get older, our skin's appearance loses that youthful glow. Our face wrinkles and neck wrinkles become more prominent, and those typical problem areas around our forehead and eyes, well, these become more of a problem. The fact of the matter is that regardless of gender, no matter how young we may 'feel' inside, age affects our skin's appearance on the outside – and not necessarily for the good!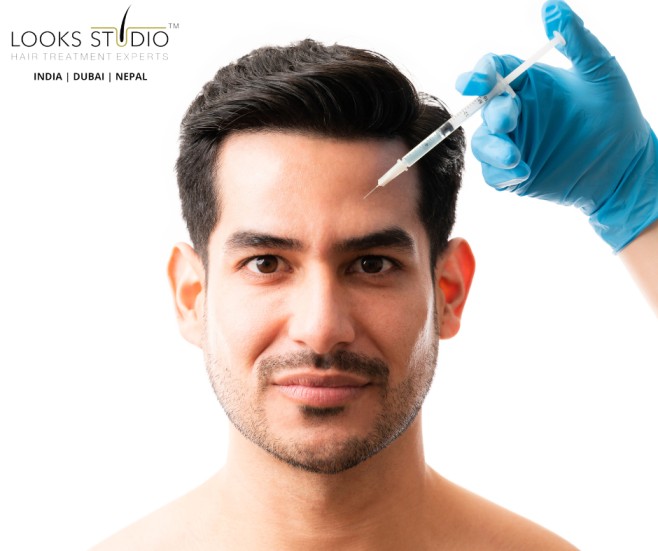 Since the 'Botox boom' in India in 2009, coupled with the amazing results it has the potential to deliver, Botox For Men's treatment has been a common topic in the media for the past 12+ years. It would be a fair comment to say that in previous years when we would have been discussing Botox, we would have typically considered the topic in the context of women 'going under the needle'.
Read- Botox-To Look Fabulous
Research 
The research tells us that one-third of men are extremely likely to consider either surgical or non-surgical cosmetic procedures. Among the 31% of men who reported being 'extremely likely' to consider a treatment to look better, 58% were aged 25 to 34 years, while 35% were aged 18 to 24 years.
But the question remains; Botox has been around for years – so why are we now seeing males either having or at least considering, treatment to fight the signs of ageing?
Read- Botox And Fillers-Revive Your Age
Celebrities Choice
A solid argument we think is the rise of celebrities, male celebrities from Bollywood, Sports, and Entrepreneurs at that, coming forward to discuss their issues and concerns with ageing and talking openly about the botox treatment and procedures they are undertaking.
We have no doubt that as more and more male celebrities openly discuss their experiences with Botox treatment, more and more of us males will continue to consider Botox treatment as a viable option to fight signs of ageing and breathe a fresh life of self-confidence into us all.
Botox for men's-Looks Studio
Botox treatment at Looks studio is widely available to all clients who meet set criteria. This protocol criterion is in place to ensure that all patients can undertake Botox treatment safely and with maximum results.
If you're considering Botox treatment and would like to book a consultation with us to discuss our treatment plans please do contact us here and one of our aesthetic experts will be in touch to talk you through your options.