Hair Transplant procedures these days have become mandatory for all those who have lost hair or been losing irrespective of ethnicity and gender across the world. The recent advancement of the FUE technique of hair transplant has made all the aspirants more confident to avail the procedure anytime according to their need. When the conservative treatments are not effective and when hair loss provokes intense psychological or self-esteem issues,hair transplantation restores hair loss.In order to achieve maximization of the result, it is proposed that the client combines his/her hair transplant session with a conservative treatment against hair loss. Nowadays, the procedure followed during a hair transplant has evolved and has been simplified, so as to allow the client to resume right away to his/her activities. Moreover, no scars or marks reveal that a hair transplantation session has taken place.
Worldwide, the demand for a permanent and natural way that restores hair loss has risen and hair transplantation is no longer a taboo. In Looks Studio hair transplant Studio, the Dermatologist and the Hair transplant Surgeon's play decisive role both in the diagnosis and in the implantation procedure, as those processes must be performed only by qualified Dermatologists and Maxillo facial Surgeons.
Bio Integrated FUE method which is patented by Looks Studio has brought in a great fusion between Medical science and technology. The advancement in the FUE method than the old conventional slit method endorsed the delivery as the 5 th generation and the latest method of Hair Transplant.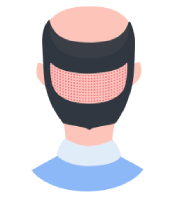 1
Punch Incision

2
Graft Harvesting

3
Graft Segregation

4
Graft Implantation
The hair transplant procedure with the Bio Integrated FUE method is the latest evolution of the FUE one as the whole procedure including preservations of the grafts post extraction through ice cell technology to retain the graft properties is the breakthrough innovation. In fact, the channel opening phase is entirely skipped. The extracted grafts are loaded into our implanter series needles and directly implanted into the skin achieving depth, direction and density. The new method of preservation makes sure that the grafts retains back on your scalp for a longer time of 25 years plus.