Botox for gummy smile: Solutions
Say goodbye to gummy smiles with a simple and effective Botox treatment
Botox relaxes the muscles that pull the upper lip up too much, resulting in a more natural smile
Improve uneven smiles and lip lines with Botox lip flips and border treatments
Enjoy the results for 3-4 months and resume normal activities with no downtime
Get the best treatment at Looks Studio, with prices starting at 275 Rs per unit
How Botox Improves Gummy Smiles
Botox selectively relaxes the muscles on each side of the nostrils, lowering the upper lip
Result in fewer gums showing and a more natural smile
Improve symmetry in smiles with Botox treatments for uneven lower lips
Enhance lip lines and see more upper lip when smiling with Botox border treatments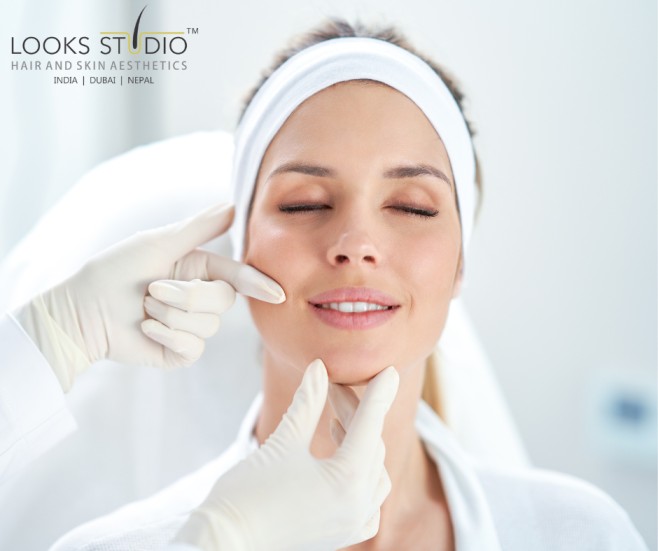 Why Choose Looks Studio for Botox Treatments
Experience the benefits of Botox for a variety of concerns, including gummy smiles, lip lines, forehead wrinkles, and more
Benefit from the expertise of our experienced and highly trained professionals
Get the best value for your money, with prices starting at 275 Rs per unit
Enjoy a comprehensive consultation with our team and learn about all the anti-ageing procedures available
Book your appointment at one of our convenient branches today!
Book Your Appointment Today!
Transform your gummy smile and feel confident and youthful with Botox at Looks Studio. Get the best treatment at an affordable price and take the first step towards a beautiful, refreshed appearance. Book your appointment today!
Gummy smiles are a common concern we hear about at Looks studio during our consultations with clients. The good news is that there is a simple, easy and highly satisfying treatment with no downtime to improve gummy smiles.
Gummy smiles can be effectively treated with Botox. Botox will relax the muscles that pull the upper lip up too much.  By selectively relaxing these muscles on each side of the nostrils, the relaxation effects of Botox will lower the upper lip and fewer gums will show. Our aesthetic physicians treat gummy smiles all the time and our clients are very pleased that they can smile without thinking about smiling. 
Gummy smile Botox treatments generally last about 3-4 months and you will resume all your normal activities. In addition, Botox can treat smiles that are uneven in the lower lip where one side of the lower lip pulls down more than the other side.  Botox can help clients gain symmetry in their smiles. 
Read- Lip Fillers: Guide to Achieve the Perfect Pout
The Botox lip flip is also another standard treatment around the mouth.  Adding some Botox to the border of the upper lip will improve lip lines and help you see more upper lip when you smile.